If you want to see articles from mr. brkic - and about him - follow these links (Serbian language only):
Actualities Foreign Press Articles Articles2 Permits Interviews Clippings Retrospective Judicial materials Photos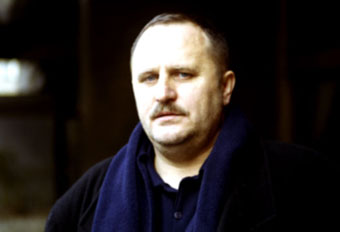 Milovan Brkic, journalist - fighting the system alone
Biography:
Milovan Brkic was born on 11 November 1956, in Ljubovija, Serbia.
His articles were published in various newspapers: "Student", "Mladost", "Omladinske novine", "Duga", "Ilustrovana Politika" ,"Radio TV revija", "Nasa Borba", "Danas", "Srpska rec", "Svedok", "Jez", "Zum reporter", "Oslobodjenje" and "Nasi dani" from Sarajevo, "Polet" from Zagreb, "Mladina" from Ljubljana, "Katedra" from Maribor, etc.
During his career, Brkic produced somewhere around 3.000 articles, commentaries, reports, and interviews.
Over the years, Brkic gave over 200 interviews to the foreign press and Radio and TV stations. His writing aroused the turbulence in Serbian, Yugoslavian and even international public. His trials, and public clashes with the upper echelon of the ruling oligarchy, were followed by over 1.000 articles in domestic press. On those issues, Brkic gave few hundreds of interviews.
Up to now, Brkic was sued over 700 times on the grounds of "libel and slander", "spreading false rumors" and "defamation of the President of FRY". He lost only one time – in a libel suit submitted by Marko Milosevic, son of Slobodan Milosevic.
Brkic held two independent exhibitions of his banned articles. First was held in 1984, and the other, even more successful, in 1986. Both exhibitions were banned by the police, but were held anyway.
"Radio B-92" produced documentary film: "Journalist Brkic – alone against everyone". Film was directed by Janko Baljak.
State Security founded a dossier on Brkic in 1980, as of a "domestic enemy". From 1990 he was "transferred" in a category of counter-intelligence, as a collaborator and informant for foreign intelligence services.
The dossier is still active…
This site consists of only a small portion of Mr. Brkic's work and life.
upon your request, We are ready to send Brkic's articles which are not presented here and you are interested in.
You can write to Mr. Brkic, post a question or give your opinion on this site here and he'll do his best to answer you ASAP.
Editor: Petar Miladinovic
Expert Consultancy: Zoran Masirevic